Transform Your Vision into Art – Commission Your Custom Sculpture Today!
Are you ready to turn your creative dreams into a tangible masterpiece? I am here to bring your ideas to life through the art of metal sculpture. Whether you envision the sleek elegance of stainless steel, the timeless allure of bronze, the rustic charm of copper, or even the uniqueness of carbon steel and found objects, I'm excited to collaborate on a piece that captures your essence. 
Take the first step towards owning a personalized work of art by clicking the link below. 
The commission form is designed to capture your vision, enabling me to provide you with a tailored proposal that aligns perfectly with your artistic aspirations.
🔮 Get Started Today: To embark on this exciting artistic journey, all you need to do is take the first step.
 Click the link below to fill out the commission form. 
This form captures your ideas, desires, and expectations, allowing me to better understand your project and provide you with a personalized proposal.
Discover the Beauty of Organic Art: An Inspiring and Sustainable Form of Creative Expression.
The Collections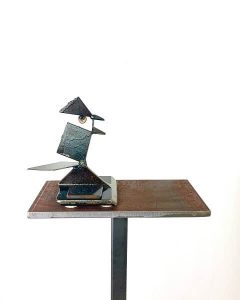 Introducing "Bird's Eye View," a collection of stunning art pieces that take inspiration from the beauty of nature. These pieces are not only visually striking but also environmentally conscious, as they are created with sustainable and organic materials. Each piece is one-of-a-kind and ingrained with a sense of wonder and awe that can only be found in the natural world. The Collection "Bird's Eye View," invites us to take a closer look at the world around us and appreciate its unique and fragile beauty.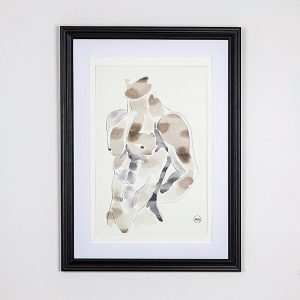 Introducing, "Underneath It All," a captivating art collection that celebrates the natural world through a unique blend of mixed media artwork. This collection takes inspiration from the raw beauty of the human form, portraying nude torsos with a mesmerizing twist. Using a variety of mediums; such as organic inks made from wild berries, wire formed on canvas and embroidery on handmade paper, each piece captures the essence of the human body's grace and vulnerability. These artworks invite viewers to explore the intricacies of nature and the interconnectedness of all living beings. Immerse yourself in this collection and unlock a new appreciation for the wonders that lie beneath the surface.
"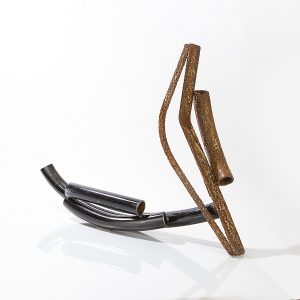 The Elements" collection is a breathtaking display of abstract metal sculptures that are sure to captivate any art enthusiast. Each piece in this collection is carefully crafted to represent one of the four classical elements – earth, air, fire, and water. The use of metal in these sculptures adds a unique dimension to the artwork, as it reflects light and creates a sense of movement. This collection invites viewers to explore the beauty of nature through the lens of abstract art and to appreciate the intricacies of the elements that make up our world.
Sign up for my Newsletter!
Enjoy monthly updates about upcoming exhibitions, new pieces and more.
Sign up today!